What is a Parent Power Box?
A Parent Power box does just what it says in the name! It hands the power over technology in a household back to the parents.
An all too common problem in today's world is that parents who know their children may be being adversely affected by excessive internet use feel powerless to do anything about it. In many, many cases the children understand the technology considerably better than the parents, meaning the parents have little or no ability to control what content the children are accessing and how often.
Among the most harmful issues are:
Excessive use of social networking sites such as facebook, instagram, twitter, pinterest or tumblr.
Visiting chat sites where predators may also be online.
Online gaming addiction.
Illegal downloading of copyrighted material.
Adult content websites containing unrestricted hardcore videos.
Companies solve these problems for their employees using a technology called a PROXY SERVER. These typically cost thousands of dollars and require full time IT staff to manage. Parent Power is the first proxy server designed specifically for the home with a greatly reduced price tag and with our constant support built in. It provides a simple control panel enabling you to independently control what access is available to each different internet enabled device.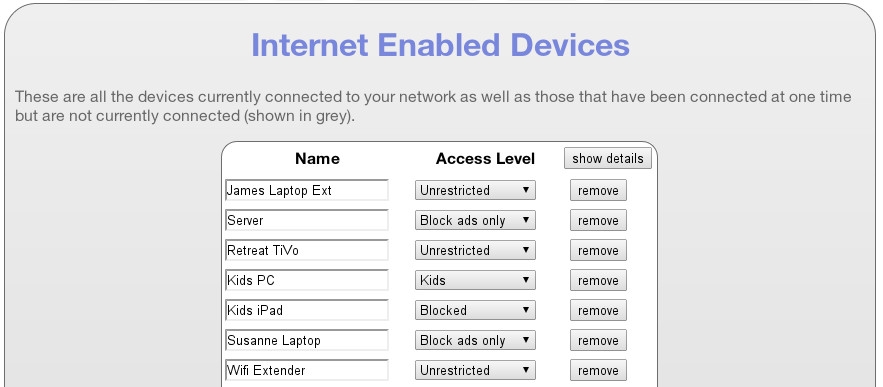 Partial screenshot of the Parent Power main control panel
Allowing access only at certain times of the day is also simple and easy. The control panel offers a calendar style screen for deciding what to allow and when: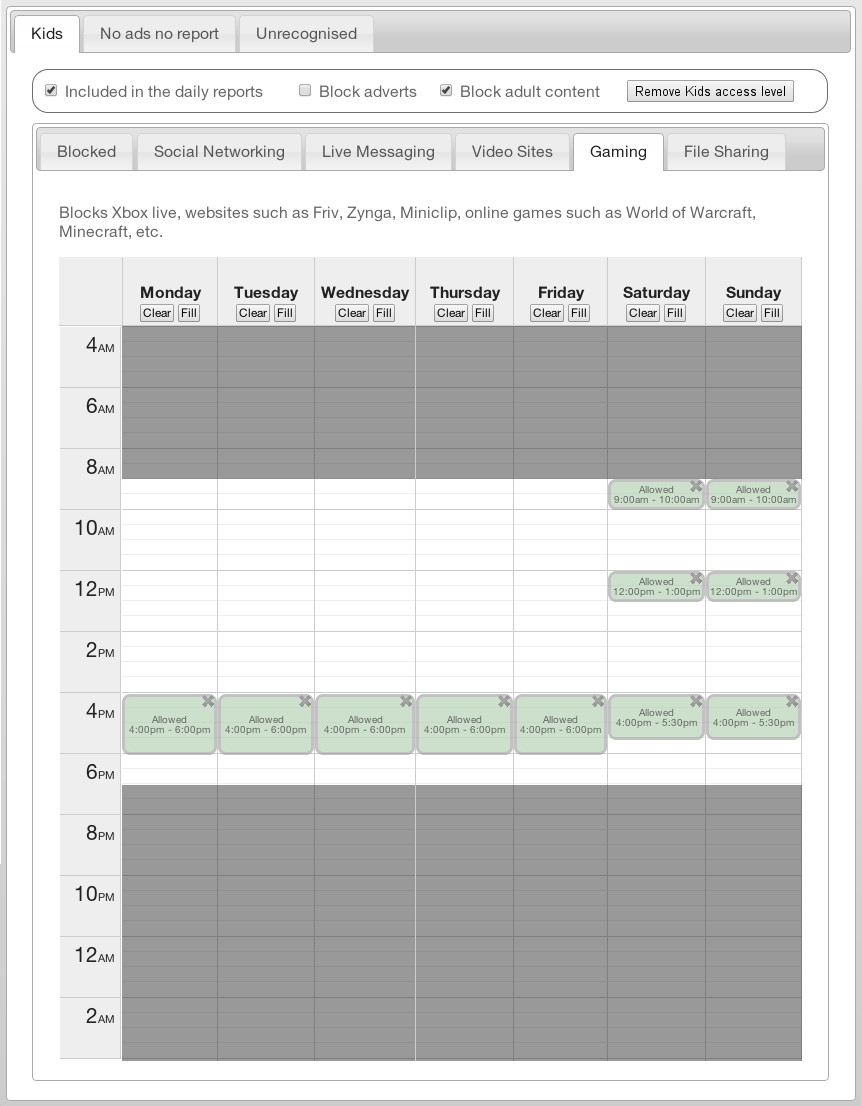 Partial screenshot of the Parent Power access control setup page
Just some of the useful features of a Parent Power box are:
Different and independent web filtering for each device in the home
Accelerated internet access through caching of regularly visited pages
Nightly reports emailed to you from the internal computer
Automatic updates of the management software
Automatic updates of the filtering and exclusion lists
The ability to allow remote support by our team if you get really stuck
So, what is Parent Power?
Parent Power is a revolutionary new product, similar in size to your existing wireless router, combining the latest filtering software technology, revolutionary website blocking techniques and time management capabilities in one single easy to use device.
What does it do ?
Parent Power allows you to easily control what sites your children can access when on the internet, set what times they can access the internet control these setting for all devices using your internet in your home or that are brought into your home by friends.
What devices does it cover?
All devices that connect with your internet including;
Phones
Tablets
Computers
Gaming consoles
Tvs
Ipods
Handheld games
Windows, Android and Mac systems
How many devices can my Parent Power unit control?
As many as you have in your home. There is no restriction on the number.
Will Parent Power stop me accessing any sites or filter my internet?
No, each device can be set individually, meaning you can set filters and times for children's devices while setting yours to unrestricted.
Will it be outdated soon?
No. Your Parent Power unit is sent updates daily as new sites and threats appear.
Can my kids get around the unit?
No, Parent Power is tamper proof, if it is unplugged the internet will cease operation and if a tamper attempt is made, you are sent a tamper notification via email.
How is this different from other products like Net Nanny?
Parent Power is hardware not software, products like Net Nanny are software and are required to be installed in every computer, they don't cover all devices such as game units, tablets and phones and don't apply to devices visiting your home. Parent Power covers EVERY device in your home.
What advantage is there in installing an Australian product?
There are 3 key advantages:
You don't need to know anything about computers, we provide a simple step by step installation guide and instructions. Alternatively, we can arrange for expert technicians to install the unit and show you how to use it in your own home.
In the event you do encounter any difficulties help is close at hand.
The content and site filtering are relevant to Australian children, is updated daily and can be added to by any family using Parent Power or recommended by the federal or state police departments.
It sounds complicated I don't really understand all the computer terms?
Yes, we totally understand, what Parent Power does is complex just like the problem, that's why we have made using it very simple. We do all the hard work for you, many of the features of Parent Power operate in the background giving parents the peace of mind knowing they are back in control.
How can Parent Power help me? - I haven't got time to be managing all my kids on all their internet and games all the time.
Exactly! Changing settings is quick and easy but most parents choose to just set and forget - it will save you time and arguments. You don't have to be constantly worrying about your children playing games all night or being on Facebook instead of doing homework.
What if there are certain sites I don't want my child accessing?
Being Australian based we can easily add sites that are of concern to our parents to our daily updates and threat protection sent to your unit.
Is every site visited on the internet recorded ?
No, only for devices you choose to track and receive reports on. This information is private and only collected on your own unit in your home and not on the cloud.
What are internet filters?
As the name suggests an internet filter stops certain sites and material being viewed on your chosen devices. You can have filters for individual sites like Facebook or Twitter or grouped into categories like games and social media that cover multiple sites of a similar nature ideal for teenagers. Because you can set filters for each device, you may choose to have none for yourself and different filters for each child dependant on their age. It's totally up to each parent to decide what their children can access.
Do I have to sign up for a specific amount of time?
No, there are no lock in contracts, stop any time you like
What does it cost?
The unit costs $249 including GST.
If you want somebody to install the unit and provide training for you, this can be provided at a cost of $150 (in those areas we can reach). The installation and training process typically takes about 90 minutes and we will talk with you to pick a time and date that works for you. You can email us at sales@parentpower.com.au to enquire if we cover your specific area.
Is it a router?
No, the Parent Power unit works hand in hand with your existing router, providing a layer of protection between the devices in your home and the internet.
Do we have to have a separate phone line?
No, the Parent Power unit connects directly to your router. It doesn't matter if the router uses a phone line, cable, NBN or wireless connection to the internet.